CH Africa: Your Number-One Stop for Buying Ink and Toner Cartridges Online
With lockdown and social-distancing measures looming for the foreseeable future and the global pandemic becoming a part of our daily lives, the rise in online sales has been inevitable in a myriad of industries. From grocery stores and chemists to home-equipment suppliers and technological gadgets – everyone is going online. Purchasing goods online offers customers a safe and efficient way to shop and ensures that they do not have to brave large crowds, long queues, and the inevitable traffic as the economy opens up.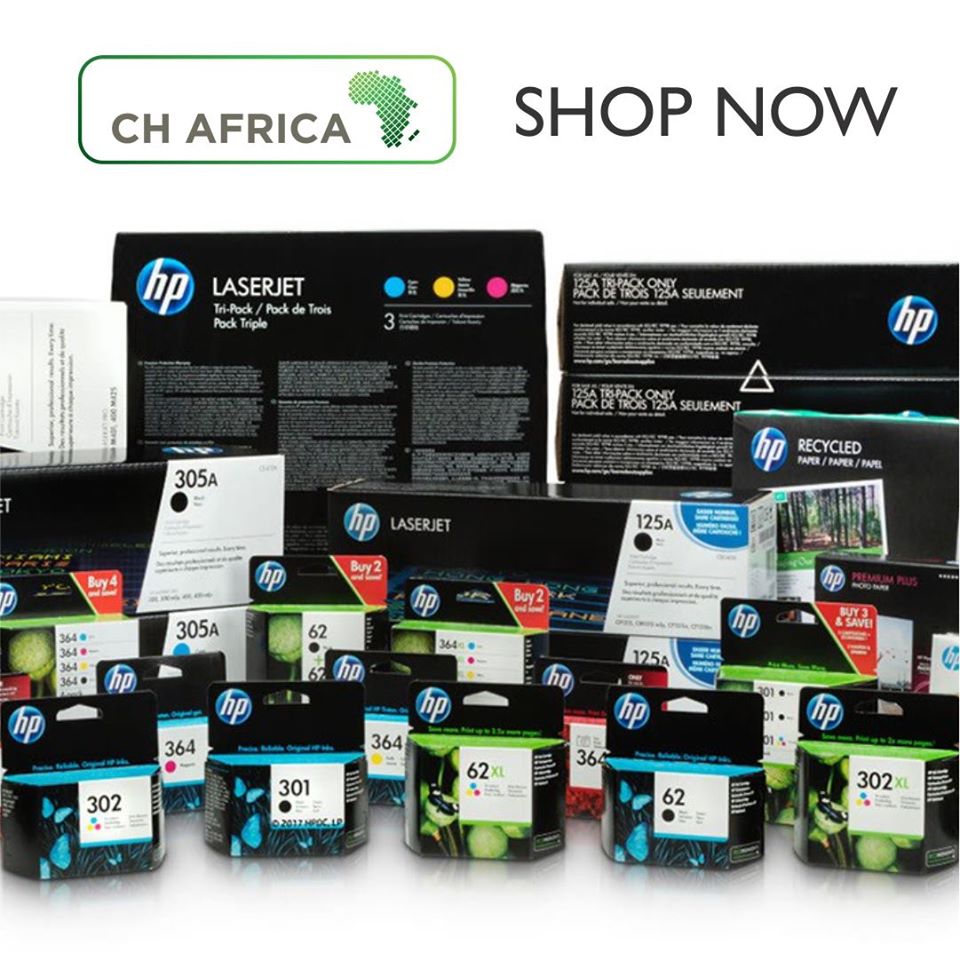 As lockdown levels begin to ease, many businesses are once again opening, and the need for printing accessories and ink cartridges has once again been realised. CH Africa offers clients a one-stop online printing shop where they can buy cartridges and printing consumables online. Whether you are looking for a leading-brand printer, toner, or ink cartridges for an existing printer, or other printing accessories, we have an array of well-priced and high-quality products that can easily be purchased online and delivered straight to your door.
As an essential service, we have kept on delivering ink to your door throughout the lockdown period and pride ourselves on our slogan "pay less, print more." We sell a range of original equipment manufacturer (OEM) ink and toner cartridges and superior-quality generic models. Customers can enjoy massive discounts if they opt for the generic models and while they will certainly save on price, they definitely will not have to skimp on quality. Whether you are looking for premium ink or premium toner, we have cartridges to suit your printing and budget needs. We stock an array of OEM models and generics that work well with a number of leading printer brands. Some of our popular brands include;
Thus, we have a wide array of printing consumables available and if you are looking for online products that can be delivered straight to your door, then check out our cartridge shop and our exciting deals. When it comes to purchasing cartridges online, it is imperative that you opt for trusted suppliers. If you are looking for cheaper generic models, be sure to purchase them from reputable suppliers whose products have been quality checked.
Sadly, some cartridge generics have not been tried and tested and can actually do extensive damage to your printer in the long run. In turn, what you save on these generics in the short term can end up costing you a fortune when you inevitably have to replace your printer or pay a professional to have it fixed. Thus, when it comes to generics, you need to ensure that products have been properly analysed and received the green light. As a leading supplier of printing consumables and printers, we believe wholeheartedly in the importance of caring for your printer with high-end products. However, we also understand that times are tough with regards to the economy and thus we have a solution that will not break the bank, or your printer: reputable generic cartridges.
Our Other Services: Resellers and Wholesale Buyers Encouraged
Apart from being a leading supplier of ink and toner cartridges and printers in South Africa, we also offer customers an effective and easy-to-navigate reselling service. We understand that the nature of businesses can change in an instant, and sometimes when these changes occur, a business can be straddled with many boxes of unopened cartridges. Our reselling services enable clients to sell these products back to us. If you are interested in reselling cartridges, simply fill in our online form and one of our representatives will be in touch. We are passionate about helping our customers out and believe that reselling is an important way to ensure that no products go to waste. In turn, we strive to do our little bit for the environment and ensure that no cartridges go unused. If everyone does their little bit for the environment, big changes are sure to happen.
We also offer a specialised bulk-discount price for all government orders and tenders. Simply fill in our online quote box and one of our friendly team members will be in touch to chat about our various products and unbeatable deals. Whether you are looking for OEM ink and toner cartridges or high-quality generics, we really do have something for every printing need at our cartridge store. Printing hardcopy documents is essential to many industries from academic institutions and accounting firms to governmental departments and lawyer offices. Whatever your needs, we have quality products at an affordable rate and aim to offer printing solutions that last.
So, Why Buy Cartridges and Printing Consumables Online?
There are a number of benefits when it comes to buying cartridges or printing consumables online, some of these include:
Saving You Time:

They say that money is time, and this could not be further from the truth. Buying your printing supplies online will save you loads of time. From driving to shops and standing in queues to rummaging through shelves in search for various products and getting to the shop itself. Online orders are quick and efficient and are the perfect choice for anyone with a busy schedule. When buying in bulk for larger industries, it also means that you will not have to stress about lugging heavy products to your car and fitting them into smaller spaces not meant for bulk buying.
Saving on Petrol Costs:

Not only do online orders save you time and therefore money, but they also save you extra petrol and parking fees. You can order from the comfort of your couch and do not have to brave any busy roads. As winter approaches and more cars get back on the road, this is a win-win situation in our books. Save petrol, avoid the crowds, and stay off those wet roads as much as possible this winter.
Limiting Exposure During the Pandemic:

During these unprecedented times, many people are understandably worried about exposing themselves or their loved ones to Covid-19. Online shopping is a safe method through which to purchase products while limiting your exposure to the outside world. This is one way in which we are working with our community towards flattening the curve. We encourage those receiving deliveries to also wear their masks to ensure that all parties remain safe during the process.
Why Choose CH Africa for Your Online Cartridge Needs?
We have been in the industry of printing consumables for over two decades and thus have an extensive wealth of knowledge to our name. We pride ourselves on building long-lasting business relationships with reputable printing manufacturers and are thus able to offer our clients premium products that are built to last and sold at a competitive price. We currently have over 9000 supply items under our name and constantly strive to grow our product list to keep up with increasing demands and global printing trends. Part of being a leading supplier in the industry means constantly keeping up with innovative solutions and expanding our range when possible. Our ethos is built on our fundamental values of integrity and reliability, and our client relationships are built on outstanding customer care.
If you are looking to buy cartridges online, then get in touch with our friendly team today or request a quote online. You can also give us a ring on 011 392 4750. No job is too big or small for us and whether you run an at-home office or need a bulk order for an academic institution, large-scale corporation, or governmental department, we have something for you and your unique printing needs. Printing consumables that work well can truly enhance the way that your business is run and are sure to make important tasks even easier to complete.
We also pride ourselves on being a part of the solution, and in light of the current pandemic, also have face masks for sale and include a free hand sanitiser with all of our deliveries. We believe in the importance of everyone doing their part and this is our small way to ensure that our customers remain safe. Our online cartridge shop is another way that we aim to flatten the curve and keep our customers safe during these precarious times. Get in touch with us today via telephone or email and we will happily chat with you about our various deals and exciting specials. Pay less while printing more and choose CH Africa as your number-one cartridge supplier today.