Is Your Hewlett Packard Printer Compatible with HP 123 Ink Cartridges?
At CH Africa, we like to keep you informed about printing products, so that you can use this knowledge to save as much as possible on supplies and get the most out of your printing equipment. Using the wrong cartridges for your printer could, at the very least, affect your printing yield and might well damage your printer permanently.
Hewlett Packard is a name synonymous with technological quality. That is why at CH Africa, we stock genuine Hewlett Packard cartridges, like the HP 123 Black and Tri Colour Original Ink Cartridge Multipack, which is now only R445.00. The multipack includes Black and Tricolour cartridges with a yield of 120 pages from the black cartridge and 100 pages from the colour cartridge. Additionally, this multipack is compatible with a number of Hewlett Packard models of printers.
Let us look at these Hewlett Packard printers and their attributes, so you can better understand your printer. If you have one of our reliable Hewlett Packard printers, or are looking to purchase one, you should consider using HP 123 Ink cartridges from CH Africa.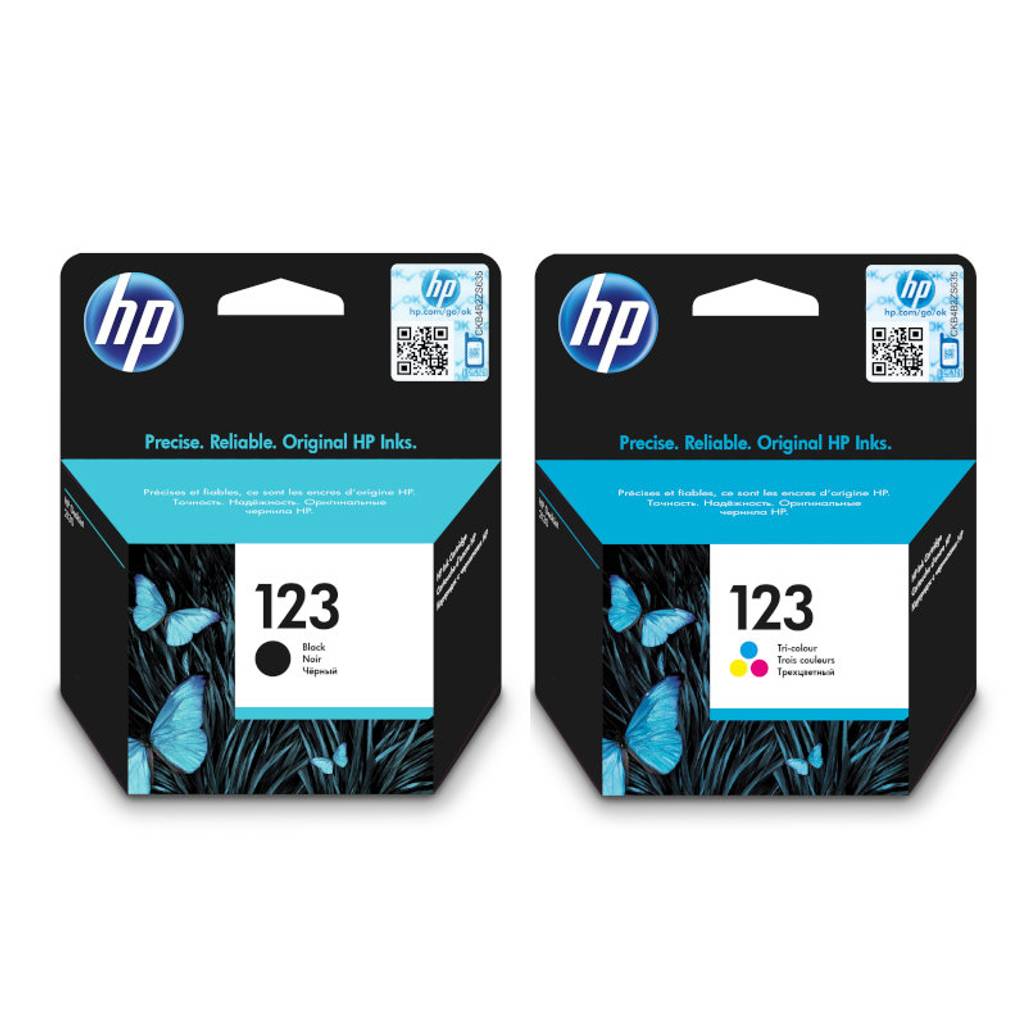 Hewlett Packard Deskjet 2130
The Deskjet 2130 will make your daily scanning, printing, and copying needs easier. The printer is a convenient size, especially for a study or home office, where space is at a premium. You will not have any problem with the simple controls and you can save money with high yield cartridges. If you need a larger yield, look no further than the aptly named HP 123XL Black and Tri Colour Original High Yield Ink Cartridge Multipack for only R1510.00, here at CH Africa. You can expect a yield of 480 pages (black) 330 pages (colour). These cartridges are most suitable for printing quality photos and everyday documents for families, students, and professionals on their Hewlett Packard printers.
Hewlett Packard Deskjet 2620
The Deskjet 2620 is a multifunction printer that can print up to 20 pages per minute (black) and 16 pages per minute (colour). Scan, print, and copy documents with ultimate precision. The Deskjet 2620 also has a manual duplex printing feature. If you own one of these versatile printers, you should know you can save at CH Africa by purchasing HP 123 Ink cartridges.
Hewlett Packard Deskjet 2630
The Deskjet 2630 is security enabled and is intended to be used with original Hewlett Packard cartridges with original Hewlett Packard circuitry. Non-HP cartridges will likely not be compatible. The DeskJet 2630 is a very affordable all-in-one wireless printer. Ideal for seamless setup with mobile devices, you can also save more by using HP 123 Ink cartridges from CH Africa.
Hewlett Packard Deskjet 3639
Print directly from your devices with the Deskjet 3639 by staying connected to your smartphone and tablet with its wireless capabilities. Accomplish everything you need on the go: set up your printer, manage printing jobs, and print, scan, and copy with the Hewlett Packard Smart app. With the DeskJet 3639, you create professional style borderless prints from the comfort of your own home. And you will not have to worry about wastage with the highly affordable HP 123 Ink cartridges from CH Africa.


Hewlett Packard OfficeJet 3830
The OfficeJet 3830 can not only copy, print, and scan, but also fax, and is wireless enabled. This versatile printer will allow you to complete a number of tasks with different types and sizes of paper, as it supports letter, legal, 4 x 6-inch, 5 x 7-inch, 8 x 10-inch, and No. 10 envelopes. There is also an optional quiet mode to alleviate noise pollution, no matter how busy things get.
If you have one of the above Hewlett Packard printers, you should consider using genuine HP 123 Ink cartridges. Not only are they on special, but they will save you money in the long run with their efficiency. Here at CH Africa, we have the printing product expertise that you need. We also have specials on all types of printing cartridges and will give you the knowledge to get the best out of your printer. Get to know your printer's needs by visiting our offices at

66 Watt St, Meadowdale, Germiston,

contacting us by phone (
011 392 4750
), or emailing us at sales@chafrica.co.za.