CH Africa: High-Quality Ink Cartridges That Are Made to Last
Ink cartridges are valuable. In fact, inkjet ink is estimated to cost around US $2500 per litre. In some circles, ink has even been referred to as "black gold." While the pirates of yesteryear were searching tirelessly for hidden treasures that were buried in some forgotten cave, the modern world has a different commodity that they need in abundance: ink. Ink is utilised in a number of different industries and it's certainly not going out of fashion any time soon. It is reported that the law industry prints the most documents every year. This is followed by the medical industry in second place and accounting firms in third. One US-based report documented that the average person working in an office will use 10 000 printed sheets of paper in one year and thus printing is paramount to the business world. If you want to be a game player in business, you need printing solutions that last.
While there are many global bids to go paperless, it seems as if printing is here to stay and paper consumption at a business level grows every year. If you're in an industry where printing is essential, you need to choose cartridges that will enhance the lifespan of your printer and yield brilliant results. If you're looking for high-quality ink cartridges, CH Africa is the right place to be. We pride ourselves on providing top-quality printing solutions and believe that all printers deserve the best when it comes to ink cartridges and associated printing accessories. Before we explore the high-quality cartridges that we have for sale, it's important to look at why the quality of your ink cartridge is so important.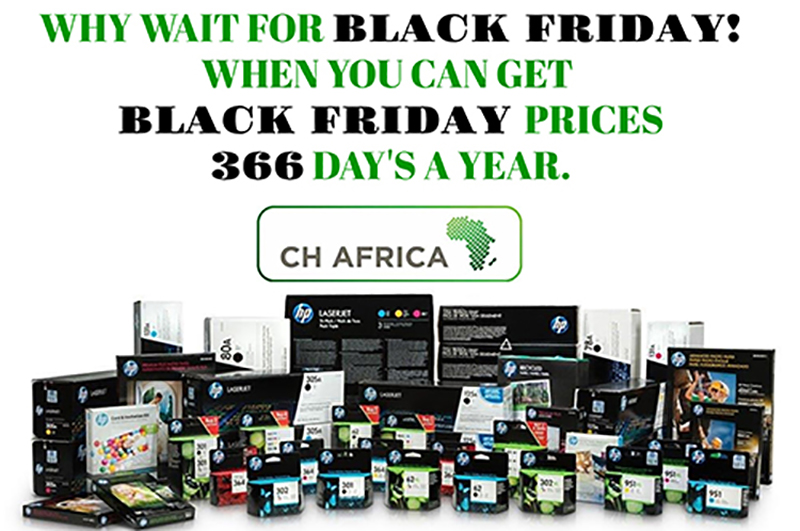 Imagine for a moment that your HP printer is a living being. We'll call him Paul and thanks to many years of reliable service he's become a valuable part of your team, maybe even a friend. Paul works hard but all this work makes him hungry and he loves nothing more than a tasty cartridge after a hard day in the office. As Paul's guardian, it's your responsibility to ensure that he gets a well-balanced meal. Sure, you can feed him the cheap stuff – those subpar generic or repurposed models that won't break the bank, but they won't exactly offer Paul much in the way of nutrition.
If fed these for a prolonged period of time, Paul might start to slow down and those cheap ink cartridges might begin to erode important components of Paul's mechanical make-up. Eventually, Paul just won't be the printer he used to be and you'll be forced to say goodbye to your old friend and splurge on a new and shinier model. We'll call her Susan. Yes, she might be a little showier than trusty Paul was, but you'll be paying big bucks for this new and dazzling team member. Hopefully, with the lesson learnt the hard way and having to say goodbye to Paul, you'll now be investing in superior-quality cartridges and feeding Susan the food she deserves.
Nonetheless, if you opted to feed Paul the good stuff from the get-go, such a goodbye might not have been necessary. Paul would still be thriving and his printing heads would be running smoothly. All he needed was a little nutrition and as a responsible printer owner, you can choose to feed him those immune-boosting HP cartridges at any point. Such a responsible choice pays off down the line and enhances the life of your printer, thus saving you money in the long run.
Why It Is Important to Invest in a High-Quality Cartridge
Now we know the story of Paul and the devastating consequences of feeding him second-rate ink cartridges. Let's look at some of the benefits of using high-quality cartridges and why you should always purchase them from a reputable supplier:
Printer compatibility:

One of the biggest benefits of opting for a high-quality cartridge is that it will be compatible with your printer. Choosing the genuine cartridge brand for your specific printer will enable your printer to print at optimal levels and will prevent problems down the line. Genuine cartridges are specifically tailored with the exact printer in mind. Thus, if you have an HP printer, HP ink cartridges are perfectly designed to fit a specific printer's unique needs. Opting for cartridges that are built with your printer in mind will ensure that your printer runs smoothly and isn't damaged by faulty generics.
Better-quality printing:

Communication is key in any business and you want to ensure that documents are printed with high quality in mind. This is especially true if clients need to sign documents or if printed materials need to be kept on file for a certain number of years. High-quality cartridges result in better printing and this is important to a number of industries. Opting for the best quality will result in clear prints, fewer smudges, and overall consistency. Ensure that everything you print speaks to your company's professionalism by choosing ink cartridges.
Saving resources:

While high-quality cartridges might initially seem pricier than their generic counterparts, they'll save you money in the long run by protecting your printer. Choosing cartridges that align with your printer is the best way to prolong the lifespan of your device and thus you won't have to fork out on a new printer prematurely.
CH Africa: A Cut Above the Rest
We have over 25 years of experience in the printing business and thus know a thing or two about printers and their various printing accessories. We have a vast network of local and international suppliers and offer our customers only the best quality. We pride ourselves in building long-lasting relationships with our clients and always believe in going that extra mile for the CH Africa community. Our product range consists of around 9000 items and we supply customers with a number of reputable brands and premium generic options, if required. Some of our top brands include:
HP

Brother

Samsung

Lexmark

Canon

Dell

Epson

OKI

Xerox.
If you're looking to buy a high-quality ink cartridge, give us a call today. Our team of friendly and knowledgeable sales representatives will gladly assist you and discuss our various ink-cartridge options with you at length. We will then offer you a custom quote that is tailored to your specific printing needs. You can also request such a quote via our website and we'll happily get back to you. We are always available via mobile, landline, and email and believe that communication is the key to brilliant service and great client relations. Our customers are our number one priority at CH Africa and we strive to meet your needs and deal with issues as they arise.
We also believe in rewarding return customers and have a number of innovative specials for those who wish to buy in bulk. Discount pricing is available for all government orders and tenders and we also have amazing offers for wholesalers and resellers. Ask about our reseller programme and we'll happily sign you up and discuss our deals with you.
We Also Buy Redundant Products
If you have excess ink and toners that have not been used, we'll happily buy them back from you. When businesses upgrade their machines, they might have excess stock. We don't believe that this should be wasted and we'll happily take the surplus off your hands. This will enable you to clear your warehouse and create more space as needed. Simply send us an Excel spreadsheet or Word document with a detailed list of the stock and be sure to include details such as the type of product, the brand, the model number, and quantity. Also include details about the box and whether it is factory sealed or open. Email this information to
redundant@chafrica.co.za
and we'll get in touch as soon as possible.
For large buy-back deals – at a government or corporate level – we'll need to inspect the goods and if they cannot be delivered, will need to include a delivery fee. Thanks to our reliable network of countrywide couriers, we can collect from almost any destination in South Africa and can inspect goods in both Cape Town and Johannesburg if needed.
When it comes to printers, we believe that high-quality printing accessories are your best option. As a reputable HP ink supplier – and a supplier of other well-known brands – we believe in the importance of well-made products that are built to last. We pride ourselves on great value, brilliant customer relations, and providing a service that works. If you have any print-related queries, get in touch with us today and we'll advise you on the best options for your individual needs. Our customers are the most important element of our work and we can't wait to help you with your printing needs.