CH Africa: Your Number-1 Online Ink Cartridge Shop
If you are on the hunt for quality ink cartridges that do not come with a hefty price tag attached, then CH Africa, with our affordable range of ink and toner cartridges, is the place to stop. As an online ink cartridge shop, we make the process of ordering and acquiring your ink cartridges a simple feat. Simply register an account with us, find the product that you are looking for, click, and pay. Whether you run a small at-home office, work for a larger firm, or need to order for governmental departments or educational institutions, we have something for you.
Since we sell both original cartridges and superb generics, we have something for every need and budget. We know it has been a tough year for all and thus, we want to ensure that everyone can still afford to buy their printer consumables. They are paramount to business and an absolute necessity for many.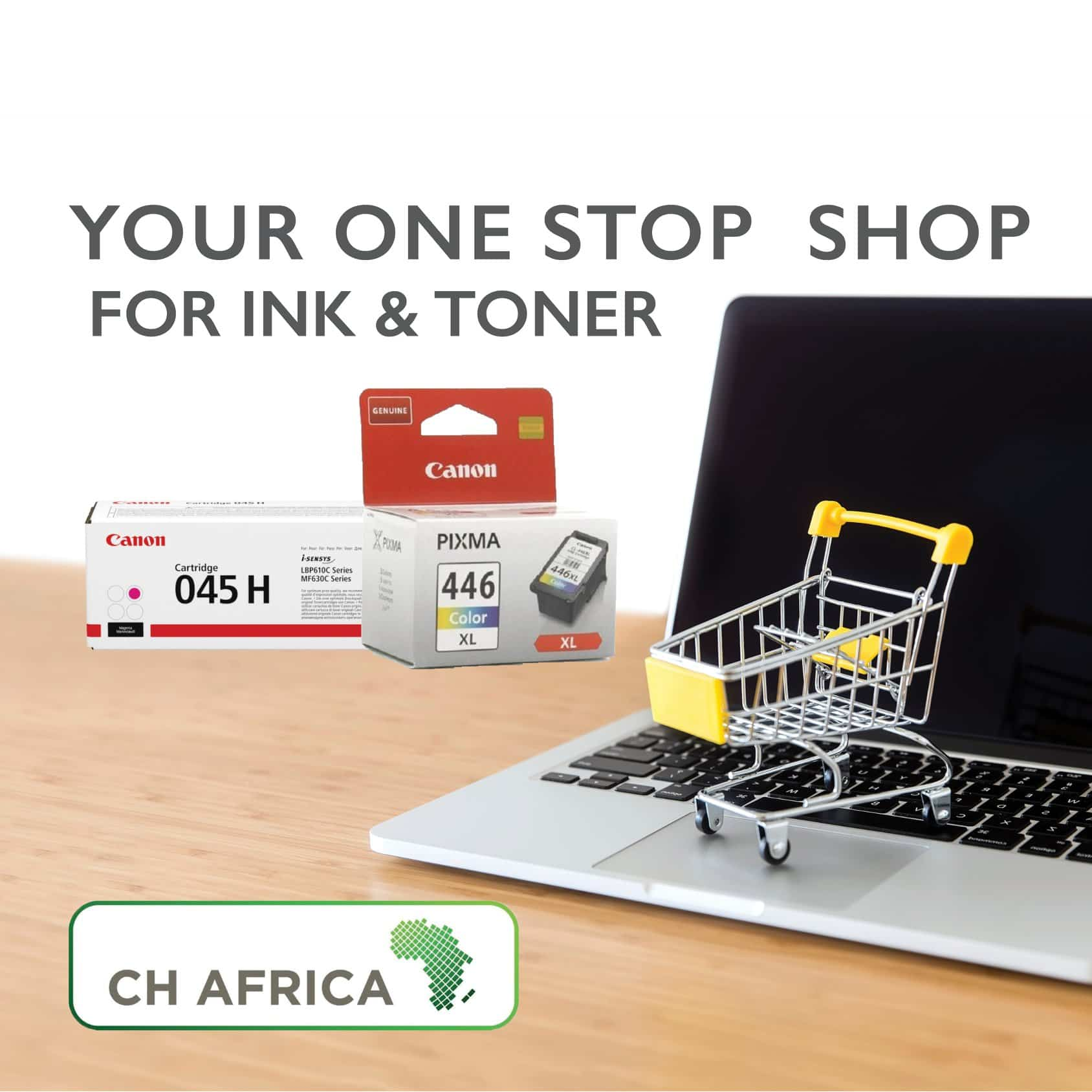 There really is no easier way to shop for your printer consumables than by doing a quick and painless online shop. In these precarious times, many are turning to online shopping and for a very good reason. It is undeniably the safest way to shop and offers consumers a number of important benefits. These include:
Consumer Safety:

As we enter the second year of the global pandemic, there is no denying the fact that many feel anxious to leave their homes, and for good reason. Choosing online shopping enables you to shop from the safety of your home and avoid unnecessary interactions. This naturally keeps you and your community safer and eases anxiety and stress.
Saving Money:

Not only does online shopping work towards flattening the curve, but it also saves you money in terms of petrol costs and hefty parking fees. Time is also money with regards to work and thus, you can focus on important tasks at hand instead of spending precious time in rush hour traffic, long queues, and busy malls.
Greater Choice:

Online shopping offers consumers a greater diversity of choice. When it comes to our toner and ink cartridges, we stock a range of original equipment manufacturer (OEM) products and reputable, high-quality generics. There are many options to choose from and thus, you will always find exactly what you need.
Specials Galore:

Sometimes, online shopping for cartridges and other printing consumables can yield some great financial rewards. Many online retailers often have brilliant sales in place and these online exclusive sales can save you a great deal, especially when buying in bulk.
No Hassle When Transporting Bulk Orders:

If you are shopping for a big company or educational institution, you might find yourself having to buy ink or toner cartridges in bulk. Thus, an online sale and quick delivery will ensure that this is a zero-hassle process. Get your goods delivered to your door or place of work and avoid the stress of having to transport and carry heavy boxes and products on your own.
Thus, online shopping boasts an incredible selection of advantages. Now it is time to explore why you should shop with us.
Why Choose Our Online Ink Cartridge Shop?
We have been in the business of printer consumables for over 25 years and thus have a great deal of experience to our name. We pride ourselves on forming long-lasting relationships with reputable suppliers at both a local and international level. We also keep our finger on the pulse with the latest industry trends and developments and our ever-expanding product universe currently has over 9000 products. When it comes to choosing an online ink cartridge shop, it is imperative to choose a company that commits to selling reputable, trustworthy products. Too often we hear horror stories of sub-par ink or toner cartridges causing significant damage to printers. At best, leaky or inefficient cartridges will cause costly damages, and at worst, you might need to replace your printer entirely.
This is a costly affair, and what you might initially save on these unregulated ink or toner cartridges can cost you a hefty sum in the long run. Choosing a reputable online supplier thus offers you peace of mind and ensures that your printer gets only the best. Whether you are looking for OEM cartridges or high-quality generics, we have everything you need and more. We stock a range of leading brands, including:
HP

Samsung

Epson

OKI

Brother

Lexmark

Kyocera

Lexmark
We are also currently running an exciting New Year's sale, and thus, it is now the time to stock up for the year ahead. If you want to explore our range of generic and original ink cartridges for sale, you can easily explore them
here
. Save up to 32% on selected products when you browse our printer and toner cartridges on sale online. The sale runs until the end of January and is a fantastic incentive to stock up for the year. As lockdown looms, many are once again working from their home offices and stocking up is imperative before a busy year.
Other Services Offered at CH Africa
While we are known in the printing world as a reputable online supplier of toner and ink cartridges, we also offer a number of other services here at CH Africa. These include:
Government Orders and Wholesale Buys:

We are well-renowned for our excellent prices when it comes to bulk orders and we have serviced many governmental departments when it comes to their orders and tenders. We pride ourselves on reliability, impeccable service, and fast delivery, and this is why we are a popular choice for so many official departments. We will get your goods to you fast and this will prevent delays in the office. Thanks to our exceptional prices when it comes to buying in bulk, we will be sure to give you a great deal every single time.
Great Prices for Resellers:

Resellers are encouraged to join our fantastic reseller programme and will enjoy amazing deals when they do so. Whether you are looking to sell premium-quality generic cartridges or original products, we have a wide range of options for you. Simply send us an email about which models you are in need of along with your quote. We will get back to you in no time with our unbeatable deals.
Buying Redundant Stock:

One of our other popular services is our buying of redundant stock. If you have a bunch of genuine ink or toner cartridges lying around that you know you will not be using, then it is time to chat with us and send us a message

here

. This is a great way to clear precious storage space, earn some extra cash, and do your bit for the environment. Many unused cartridges end up in landfills and can take thousands of years to break down and decompose.
By reselling unused cartridges, you prevent this from occurring and give them a second life. Rather than letting these cartridges clutter your workspace and gather dust, sell them to us and ensure they get used and free up some extra space. If you want to sell us those unused original models, it is time to send us an email. Simply tell us the make, model, quantity, and type and be sure to include a picture.
Also let us know about possible damage to the boxes and whether they are sealed. We will happily give you a quote if we want to buy your cartridges and we can collect countrywide and are available to inspect products in both Johannesburg and Cape Town.
Contact Us Today for Great Service and Superior Cartridges
There really is no better choice when it comes to online ink and toner cartridge shops. We have stood the test of time, and our vast array of repeat clients is testament to the quality of our products and our exceptional service. No job is too big or small for us at CH Africa, and whatever your needs, we always have a friendly consultant on hand to offer you some expert advice. If you are looking for an online ink and toner supplier that you can truly trust, it is time to get in touch with us. Give us a call on 011 392 4750 or send us an email to
sales@chafrica.co.za
. We look forward to hearing from you and helping you to find the best printing solutions and products.