Print With Confidence When Using Original HP 106A Toner Cartridges
If you own any HP Laser 107, 135, or 137 printers, it's important to look into buying original
HP 106A toner cartridges
. The reason for this is that OEM cartridges are manufactured by the same company that made your printer. This means their products are specifically formulated to work perfectly with your machine and its consumables.
The Hewlett Packard brand is well-known for its excellent quality in printing machines. Therefore, you can rest assured that their ink and toner cartridges are of the highest standard.
Toner cartridges can be expensive, even more so than ink. It is thus understandable that consumers would opt for the cheapest option that fits their machines, namely compatible or repurposed cartridges as opposed to the original HP 106A.
However, when shopping at an online store, such as CH Africa, customers already pay less than in regular retail outlets. This is because we cater for bulk buyers, giving us the opportunity to deliver printing consumables that are affordable to all.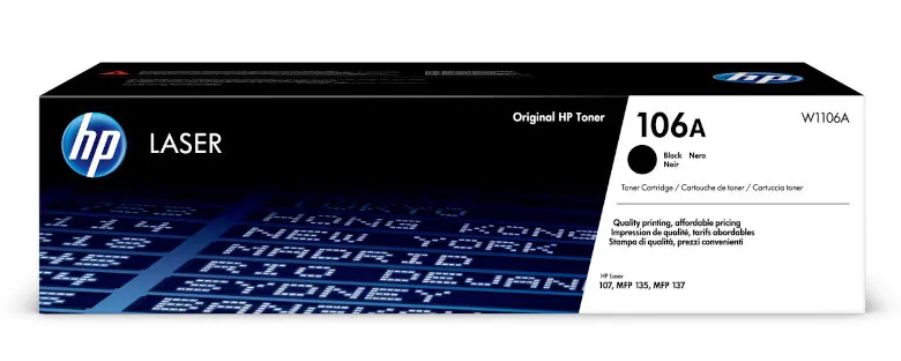 Is OEM HP 106A Toner Superior to Compatible or Repurposed Cartridges?
To determine whether it is worth buying the toner that was originally made for your printer, you have to first know the difference between each type of product.
Compatible toners or inks are cartridges made by companies with zero ties to the brand or make of your machine. Thus, they attempt to mimic the products manufactured by brands like HP, Samsung, Canon, and Brother.
Although many high-level generic cartridges are available on the market such as the
HP 106A Black Compatible Cartridge
of CH Africa, it's important to note that not all no-name cartridges are equally reliable. Therefore, buying generic toner is a huge risk if not purchased from a trusted supplier that sells only the best quality.
Repurposed cartridges are generally a more environmentally friendly option. These are made by refilling empty ink or toner units of either the original brand or compatible units. The used cartridges are examined, cleaned, and refilled if plausible, and recycled if not.
Sometimes, a repurposed cartridge can work perfectly, and other times, it can fail completely, which can damage your device. It all depends on the integrity of the company repurposing the empty units. It's important to purchase only from a company that performs thorough checks and quality control to ensure that they only reuse OEM empties, which are still in a good state.
When buying HP 106A original toner, you know the product is made to perfection, as it has to hold up to certain standards to not tarnish the brand's name. This makes it the safest option to avoid anything happening to your expensive laser printer.
Other Advantages of Buying HP 106A Toner
While it is possible to get similar results from compatible cartridges at a lower price, it's recommended to only use OEM products such as HP 106A original toner for the first while after getting a new printer. This is to ensure that no guarantees or warranties are voided, should an issue occur with your device.
Below are more reasons to use genuine toner cartridges:
Original cartridges deliver consistent high-quality prints.

Genuine cartridges can be trusted when the page yield states 1000 prints per unit.

It's easy to distinguish between counterfeit and real OEM products due to watermarks and specific traits on brand-name packaging.

More stores stock original cartridges, making it possible to buy refills for your printer even on short notice.

A brand, such as HP, can be held accountable and is more likely to refund you in the rare case of a faulty cartridge.

You can expect the print to last longer if done with OEM ink or toner.
It's worth the slightly higher price for a trustworthy cartridge to reduce the risk of damage.
Shop Toner and Ink Cartridges Online at CH Africa
We stock a wide variety of brand-name printing consumables and have a long track record of delivering superior generic products for those set on buying inexpensive compatible HP 106A cartridges. Shop our special offers or benefit from customised prices if you are a reseller, wholesaler, or government tender supplier.
When buying from CH Africa, you can order HP 106A cartridges from the comfort of your home or office. This is possible because our courier partners deliver nationwide.
Use the search function on the website to navigate through our many available printing products and find the right OEM cartridge or
send us a message
if you need assistance.