CH Africa: Your No-1 Online Toner and Ink Shop
Here at CH Africa, our motto is simple: pay less and print more. We believe in always offering our clients top-quality toner and ink cartridges at an affordable rate. Our online shop offers customers a quick and easy way to purchase all their printing consumables and has the added bonus of saving clientele when it comes to time and fuel costs. One thing that the Covid-19 global pandemic has taught us is the power of the Internet in aiding us with day to day tasks.
Many offices have allowed their staff to work remotely in order to curb the spread of the virus, and many consumers are choosing to do their shopping online. Other than the economic savings, this enables individuals to flatten the curve and limit their contact with possible asymptomatic carriers of the virus. As an online cartridge shop, we aim to deliver superior products in a timely fashion. Whether you are in need of a bulk order for an office or governmental department, or a smaller delivery for your at-home office, we have a range of products and services available for your unique printing needs.
We have both ink and toner cartridges available, and both of these options can be bought online. We sell original equipment manufacturer (OEM) items and superior value generic models. When opting for generic toner and ink cartridges, it is imperative to ensure that you purchase them from a supplier that you trust.
Subpar quality toner and ink cartridges can cause extensive damage to printers, and what saves you initially in the short-term can end up costing you a lot more when you need to replace your entire printer. Thus, you need to choose a company like ours that has been in the printing industry for a long time and who pride themselves on providing outstanding service and quality.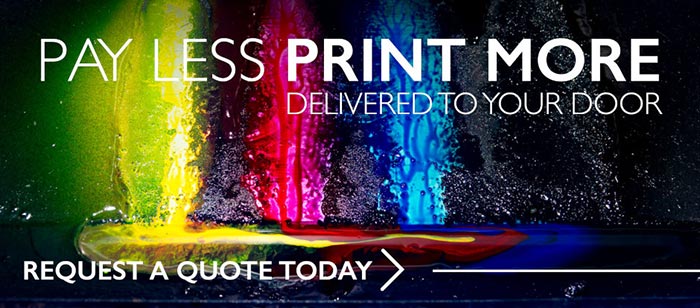 The Basics: Ink Vs Toner
The fundamental difference between these two cartridges is the material that they are made from. Ink cartridges are made from a liquid substance that is either pigment-based or dye-based. On the other hand, toner cartridges are made from a fine powder. Ink cartridges work for inkjet printers and toner cartridges for their laser printer counterparts. Let us look at some of their key differences, pros, and cons below. We also discuss what printers work best for particular industries and uses.
Ink Cartridges
As already noted above, these can either be pigment-based or dye-based. However, most inkjet printers utilise dye-based cartridges. These are cheaper than pigment-based ones and are also well renowned for being able to produce vibrant colour images. However, dye-based ink is not waterproof, and the likelihood of smudging is high if documents are not given adequate time to dry.
Pigment-based ink cartridges offer a quicker drying time than dye-based cartridges and are known for their ability to produce crisp images. While dye-based ink can fade within about 25 years, the pigment-based dye can remain intact for up to 200 years.
It is also able to withstand water and UV rays far better than dye-based ink. Thus, using pigment-based ink might be a better option if you are printing important text-heavy documents that need to stand the test of time. While this ink is more costly, it might benefit you in the long run. Nonetheless, if you are looking for vibrancy and brilliant pops of colour, dye-based ink is certainly the way to go.
Who Should Use Them:
Inkjet printers are a brilliant choice for those with small at-home offices or those who have children who need to print colourful documents for school. Many inkjet printers are all-in-one devices and are thus also able to scan and fax when needed. This type of printer and cartridge solution will enable you to print decent quality photos and is well-suited for those who need to print regularly but not in great volumes.
Pros:
Much cheaper than laser printers (both in terms of the printer itself and the cartridges).

Easier cartridge replacement.

More vivid colour images and better suited to printing on cardboard.
Cons:
A lower printing yield than laser printers (thus not suited for industries where mass printing is needed).

Cartridges can become clogged more easily.
Toner Cartridges
Toner cartridges, on the other hands, are made with a dry powder and are thus a better choice for anyone who is worried about ink stains. A drum is utilised to fuse the toner powder to the printing paper and laser printers either print in monochrome or colour. Some drums are already built into the toner cartridge itself while others are sold separately. The built-in ones are oftentimes more costly than those sold without a drum. However, they have the added convenience of users not having to manually change the drum.
Who Should Use Them:
Toner printers and cartridges are best for those who need a higher printing yield. Print-heavy industries, such as academic institutions, governmental departments, law firms, and accounting agencies will often use laser printers. Since toner printers can print documents much faster, they also suit fast-paced industries. Some can print up to 100 pages per minute and thus, bulk printing is the order of the day when it comes to toner printers.
Pros:
Precise prints and more powerful printing abilities.

Prints last longer.

Higher printing yield.

Better for black and white printing.
Cons:
More expensive in terms of printer cost and printing consumables.
Thus, there are a number of differences between toner and ink printers and the choice is largely dependent on what printing jobs need to be completed. As a rule of thumb, ink cartridges are better to use for vibrant colour images and at-home use, and toner cartridges are better for bulk printing and text-heavy documents. If you feel lost as to which option would work best for your needs, we are always available to be a sounding board and to offer our expert advice.
Our Available Products and Services
Here at CH Africa, we believe in the importance of providing quality printing products and quick delivery. This is why our online cartridge solutions are such a popular pick. We strive to deliver your printing consumables to your door, and in doing so, take the stress out of buying cartridges. While we are on the road getting your cartridge delivery to you, you can carry on with your important tasks and avoid the stress of traffic, bad weather conditions, and busy shops.
Our product universe consists of over 9000 products, and we stock a range of printers, hardware, and printing consumables for the following brands:
HP

Samsung

Brother

Lexmark

Oki

Canon

Xerox

Epson

Dell

Western Digital

Kyocera

Konica Minolta
Who Choose CH Africa
Whether you need an OEM cartridge or a reliable generic model, we have something for you. With over 25 years of experience in the printing industry, we pride ourselves on superior products and brilliant value. We have built strong relationships with international and local suppliers and thus have a large network at our disposal.
This enables us to sell ink and toner cartridges at an affordable rate. We also have a number of deals available for those who want to buy in bulk and have serviced a number of large corporations and governmental institutions. When it comes to quality and affordability, you cannot go wrong with us. We also have a resale option available for anyone who wants to sell unused cartridges.
This is a great way to enhance your green footprint, make some extra money, and make more space. If you have any cartridges that you would like to sell, simply get in touch with us. Be sure to note the brand, model, and make, and to include whether or not they have been opened. We will be in touch with you and if we would like to buy the cartridges, we will make you an offer.
Whatever your printing needs are, we are here to help. Simply get in touch with us and one of our friendly team members will gladly advise you on which products will best suit your needs. We truly believe in going the extra mile for clients and no query is too much trouble. We have been around for over two decades because of this commitment to customer service and look forward to servicing the printing industry for the next 25 years. Pay less and print more today. Choose CH Africa.